Tactical Execution Isn't Enough Anymore
In the new reality of our pandemic influenced world, the relationship paradigm between brands and agencies is changing rapidly. While industry publications have featured no shortage of articles reporting clever creative pivots and opportunistic media buys through these strange times, the fact is most brands are navigating unprecedented headwinds from the economic downturn ranging from quite serious to catastrophic – circumstances that no feat of tactical execution alone can relieve. And, with marketing budgets on the chopping block the world over, the conventional buyer/supplier relationship between brands and agencies is proving now more than ever to be a tired and ineffective model. Today, what clients want and need is deep, strategic thought leadership that considers their business holistically, not just a few extra pairs of hands.
The Harder the Times, the Deeper the Bond
While no business, including our own, is immune to today's perilous economic environment, at Imaginuity we believe our approach to client partnership has made us uniquely well positioned to serve our clients when tough times are afoot. In fact, while many brands are putting the squeeze on their agencies, and with many indicators signaling a prolonged economic slide, we've doubled down on our approach by aligning our focus on strengthening our client relationships in ways that drive lasting strategic value for their businesses at a fundamental level, not only the achievement of marketing KPI's. We believe that a mutual commitment (from agency and brand) to shared ownership of business outcomes creates a partnership that prioritizes transparency, collaboration, and innovation, and ultimately delivers on the brand strategy. Consequently, when these qualities are woven into the fabric of our partnerships, the outcomes for our clients are remarkable. The concept of building a partnership like this is simple but it's not easy.
"Unless Commitment is Made, There Are Only Promises and Hopes; But No Plans." – Peter Drucker
For the shared ownership framework to be successful, our clients must be able to endure the discomfort that can arise when we deliver a recommendation that doesn't intuitively align with their expectations. Likewise, it requires us to be daring enough to make such recommendations, knowing we may be treading in uncharted territory. Moreover, it requires our clients to pull back the curtain to show us the existential business challenges that keep them up at night. This is typically done during deep-dive, design-thinking workshops in which we seek an understanding of our client's business that transcends the marketing sphere alone by concentrating on every element of their organization – comprising consideration for operations, customer service, technology, finance, and more. While executing workshops and implementing the resulting recommendations can be a launch pad for success, the real magic happens in the following months when we faithfully hold ourselves, and our clients, mutually accountable for the outcomes we identify together, and continually adhere to a problem solving model in which we tackle the big challenges in lockstep. This type of engagement can be difficult for some clients to commit to for one reason or another, but in our experience, those who are willing to "go there" with us and invest in the framework of shared ownership from the inception of the partnership typically realize the results they desire and then some.

With many of our longtime clients, this mindset has become second nature in a way that may reduce the need for a formal workshop setting altogether. Our conversations organically run the gamut of business topics, solutions are iterative, forward thinking is valued above all else, and the results speak for themselves.
OK Sounds Pretty Woo Woo, Does it Actually Work?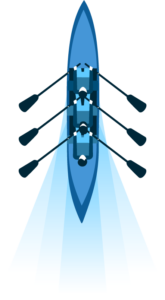 Here's a real-world example of how we've put a shared ownership framework into practice for a client over the last few months:

A longtime client is a multi-location auto dealer that offers in-house financing. Over the last several months they faced two major challenges related to the COVID-19-crisis:

1. Quarantine policies required them to close a third of their locations for over a month, leading to a significant decline in sales.
2. The wider economic downturn and rising unemployment rate caused acute concern around their customers' ability to make payments.

Because we operate under the shared ownership framework, the client was transparent with us up front about their concerns for sales, receivables, and technological limitations. This transparency empowered us to collaboratively craft a comprehensive strategy for media, creative, and local SEO management that ultimately led to April YoY sales numbers dropping by a total of only ten cars – even with four of their highest volume locations closed, and a reduced marketing budget. One of the biggest challenges we were able to overcome together was agreeing on a strategy to maintain some media spend across all platforms in specific markets to capitalize on the rebound effect of reopenings, rather than going the way of many competitors and pulling media spend outright.

This was a key decision, because even more impressively, May and June sales reported an increase of 135 and 65 cars sold YOY, respectively – even with one location still closed and no relaxation of buyer financing requirements.

We addressed the concern around customer receivables by dedicating some media to driving customers to a landing page with more details on the different methods to make payments (online, by phone or by mail).

As for what's next for the client, our conversations have progressed into working together to deploy an evolved go-to-market strategy including new technologies that will allow customers to get preapproved for financing virtually, without ever physically visiting a dealership.
Closing Thoughts: Go Beyond the Marketing Sphere
In summary, we should stop looking at the agency/brand relationship model as existing exclusively in the marketing sphere. Both agencies and brands need to overhaul that thinking toward more holistic consideration for business outcomes to drive growth and build lasting partnerships that can even stand up to the test of a global pandemic and prove that a little imagination can go a long way.