Believe Design Thinking isn't right for your company? Think again.
One of the buzziest processes in business which has been gaining traction over the past few years is Design Thinking. You can find article after article singing its praises and explaining how this newest business philosophy and its collaborative workshop experiences have transformed businesses in almost every sector. This sentence is true on all accounts, with the exception of the word "newest".

Design Thinking has been around since President Eisenhower. For those that don't want to do the math, that's 60+ years. And yes, it has been called Design Thinking since the beginning. And yes, it has been in practice all these decades, but mostly in smaller circles—those uber-focused on their customers. Architects, engineers, consumer brands, industrial and product designers, and, yes, successful advertising and marketing agencies.
Let's start from the beginning.
I don't mean the actual beginning. That's another blog post for another time. I'm referring to addressing what Design Thinking is, defining it. At Imaginuity, we define it as a human-centered approach using a designer's process to discover new ideas and solve challenges. Design Thinking is based on the idea that to truly create ideas that matter, you have to begin by focusing on the intended audience, and not the problem. Design Thinking is performed through a workshop, usually lasting between four to six hours, though once you become accustomed to the process you can narrow that time, sometimes to only a couple of hours or less. Best of all, Design Thinking applies to any business, any organization, any challenge happening now or in the foreseeable future. Business processes and corporate objectives are rapidly changing to meet the demands of an ever-shifting society, and your organization needs a proven process to ensure you stay relevant as the world continues to pivot.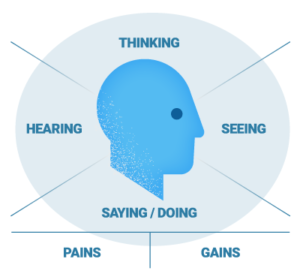 The importance of a human-centered approach.
So why have some industries practiced Design Thinking all these years, but not others? These organizations create solutions that must influence people's behaviors. In other words, the solutions don't work if they don't fit the audience, therefore these solutions must be based on human behavior. These companies understand if they don't know what their end users need, their entire service development effort is futile. Audiences need the acoustics of a concert hall to be captivating throughout the entire space.

This is why architects begin with the requirements of an audience, and not the structure of the building. Industrial designers understand customers need an umbrella that can open, and close, in less than a second. And marketing agencies know consumers need valuable content delivered to them in a way that does not interfere with their lives—a frictionless experience.
Don't give them what they want.
Do you know what your customers need? You may know what they want, but that's not the same. Disruptive game-changing ideas aren't built around what customers want. Brand experiences that transform customers' lives are ideas that transform businesses, propelling them to the top of a category. Often, they can create a new category. In 2007 what consumers wanted was a phone that could make their communications more efficient. What Apple delivered that year was a phone that gave users an elegant portal into the internet, gaming, movies, shopping, business tools, and another million experiences. Once we all got our hands on a smartphone, we discovered what we needed, not what we wanted. And I can only speak for myself when I say I can't imagine not having all those experiences in hand at all times.
Design Thinking can give you insight into what your customers need. Every initiative should begin with empathy. Understanding what your audiences are hearing, saying, seeing, smelling. Who they're spending their time with, what brings them joy, and most importantly, what hurdles prevent them from living a better life. Only after you are able to experience the everyday of your customer, as your customer, are you ready to define the scope of the problem.

The problem may be massive, it may be small, but it should be a problem for which your business can provide an answer. Design Thinking works because every business can provide a solution to a need. That's why we're all in business. To provide against a need. Design Thinking is beautiful because the process remains unchanged no matter the size, or type, of the problem.
Size doesn't matter. Good thing.
You might be wondering how many employees you need for Design Thinking to prove fruitful. 2? 20? 50? 100+? The answer is yes, yes, yes and yes. It's completely scalable. The bigger the better. The more diverse the better. And the more you can recruit from different departments, the better. Having said that, we hold Design Thinking workshops with four or fewer employees all the time. The process is exactly the same, regardless the size of the workshop. It's less about the number of participants. It's all about the engagement of the participants.
Look inward.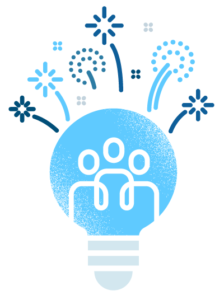 I've mentioned audiences several times. I do want to clarify Design Thinking works just as well for internal challenges as it does external. Do you have internal communication breakdowns? Need help with departmental alignment? Service expansion? Cultural issues? If there is a problem, Design Thinking can help provide solutions. Best of all, because the Design Thinking process is the same regardless of the challenge or number of participants, once your employees engage in one session, they will be able to follow the process moving forward, across departments. Build uniformity in ideation processes by applying the principles of Design Thinking and your organization will gain incredible efficiencies, producing significantly more ideas, concepts, and prototypes in less time.
See, we told you Design Thinking was for you.
You're a business. You have challenges. Every business does. Perhaps you're finding some of those challenges difficult to solve. Perhaps you're going about tackling those challenges in the wrong way. Over and over. Design Thinking can give you a fresh approach, one that comes at needs from a different perspective. Don't try to solve a problem based on what you think. Solve the problem based on what your audience needs. I don't care what type of business you're in. We've held Design Thinking workshops for one of the largest theatre chains in the United States, a Fortune 100 American multinational investment bank and financial services corporation, and one of the nation's largest airlines. We've also held workshops with a two-man beverage start-up, a local regional bank, and several other small- to medium-sized businesses. Not to mention more internal sessions than we can keep track of.

Design Thinking works. It's been working for 60 years, and it will continue to work moving forward. That's why companies like Toyota, AT&T, IBM, GE, Capital One, Lego, and MassMutual have incorporated the methodology into their businesses. Most importantly, it will work for your business, no matter the size of the problem or the size of your company. And in today's rapidly changing world, we all have new challenges and needs to generate new ideas in order to propel our businesses forward.