ANBTX
Since its inception in 1875 as a modest local bank, American National Bank of Texas (ANBTX) has evolved into one of the state's foremost independently owned financial institutions, boasting a remarkable $5 billion in assets and a thriving network of over 30 locations. Faced with the challenge of optimizing their search engine visibility and revamping their website, ANBTX looked to long-time partner, Imaginuity, to leverage the power of technology to not only transform its digital presence but also reinforce its reputation as a trusted financial partner within the community.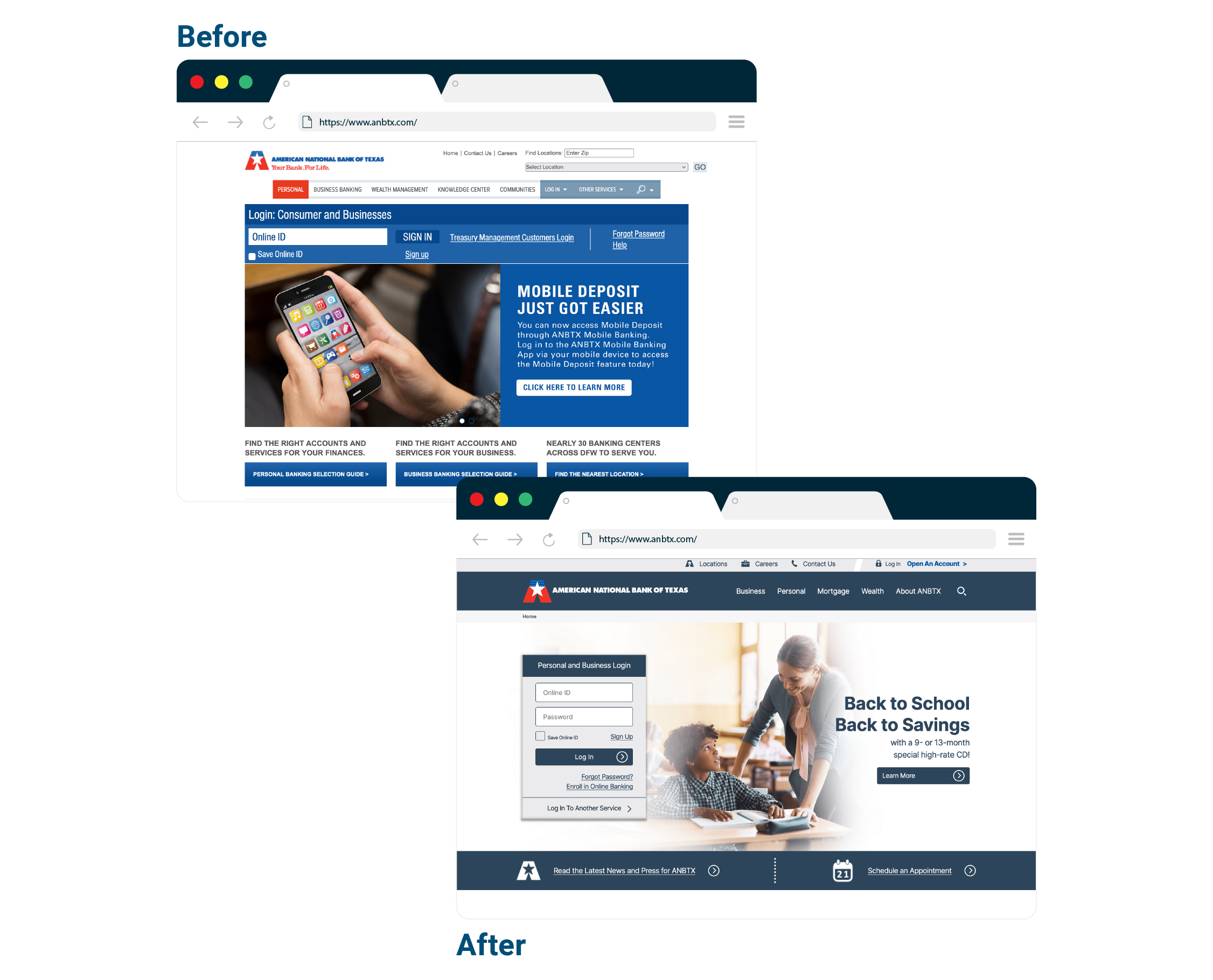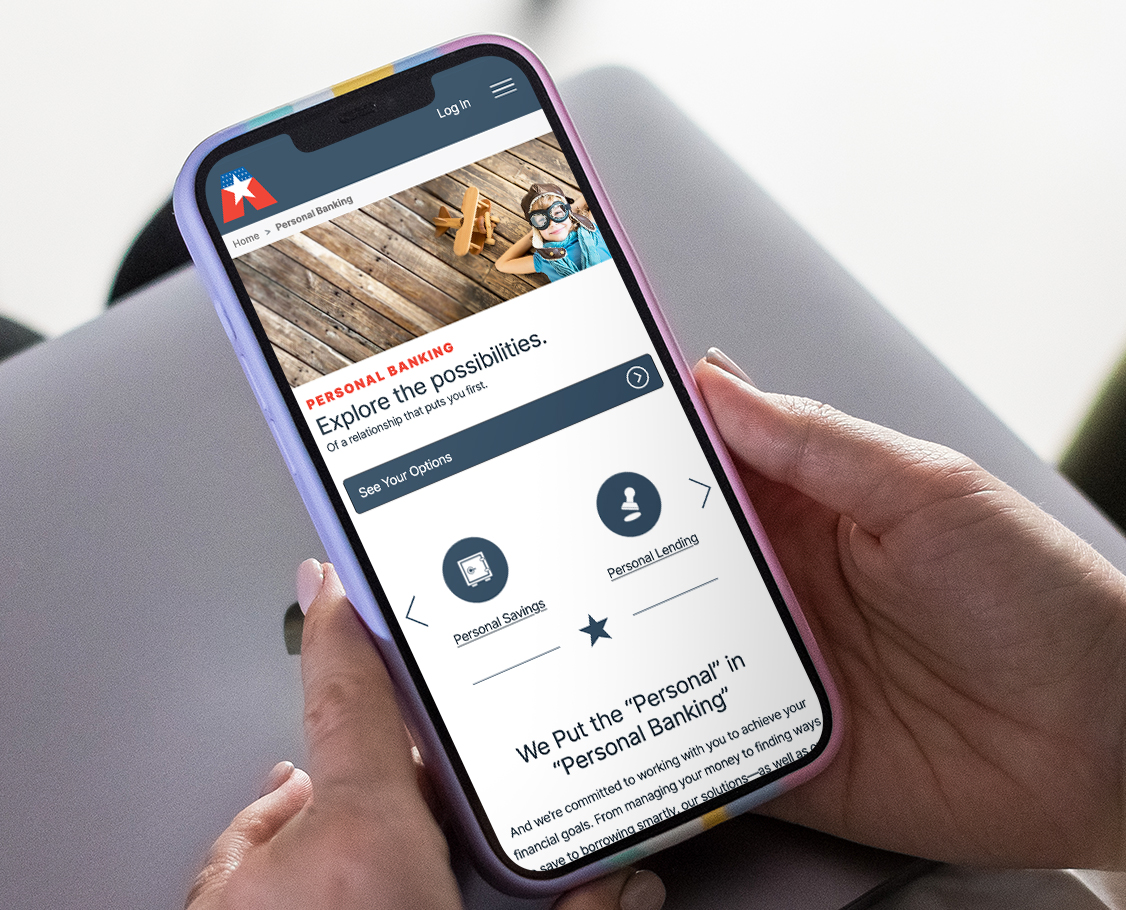 Challenge
n 2020, ANBTX encountered difficulties with a website that lacked mobile responsiveness and relied on an outdated content management system (CMS). This combination presented challenges for providing an optimal user experience, which, in turn, had an impact on both their current customer base and potential new clients. Recognizing the importance of a mobile-first approach in website design, our task was to create a layout that inherently prioritized content and aimed to enhance user-friendliness, addressing these issues constructively.
Simultaneously, the implications of persisting with an antiquated CMS became evident, posing concerns not only in terms of usability but also regarding long-term security vulnerabilities. It was clear that a holistic transformation was imperative to align the digital platform with modern standards and customer expectations.
Solution
Kicking off the revitalization of the ANBTX website, Imaginuity embarked on a journey to craft a more streamlined, user-centric design. This strategic endeavor brought forth an array of enhancements aimed at elevating the online experiences of users. Key measures included the seamless integration of a new CMS—that being the newly launched Kentico 13, the creation of dedicated location pages for each ANBTX banking center, the refinement of the mobile platform for enhanced accessibility, and the thorough enhancement of tools and features throughout the site.
Following the establishment of a new contemporary design, Imaginuity's adept SEO team undertook further optimization efforts. This involved conducting comprehensive keyword research, composing fresh meta titles and descriptions spanning the entire site, and conducting an in-depth audit to address issues such as redirects and broken backlinks. These meticulous actions collectively solidified the digital infrastructure, reinforcing ANBTX's online standing.
With the successful implementation of the revamped design and the incorporation of Kentico 13, ANBTX witnessed a remarkable transformation. Bolstered by Kentico's MVC model, the website's security was enhanced as it divided the application into three key components: Model, View, and Controller. This division optimized development for each component, leading to improved user experience, heightened search engine rankings, and increased conversions for key services and products. The site saw a 245.5% total goal conversion rate increase year-over-year and a -22.9% reduction in bounce rate. This holistic approach not only aligned the digital platform with modern expectations but also reaffirmed ANBTX's commitment to delivering excellence across their online presence.
It's all about the work.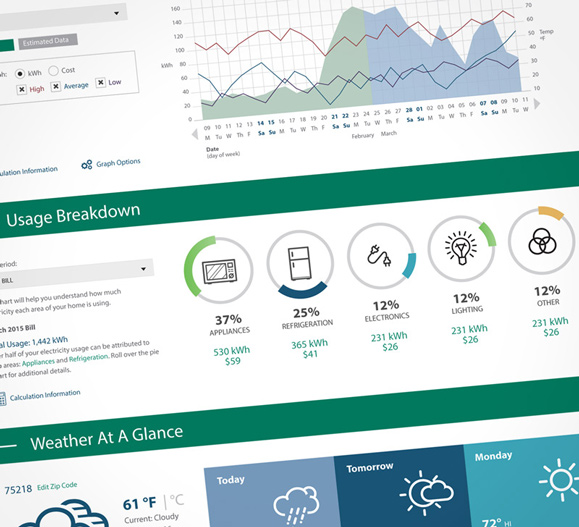 TXU Energy
TXU Energy is an American retail electricity provider headquartered in Irving, Texas, serving residential and business customers since 2002. A subsidiary of Vistra Corp, it is one of the largest retail electricity providers in Texas. Imaginuity was hired to rearchitect and redesign their consumer website.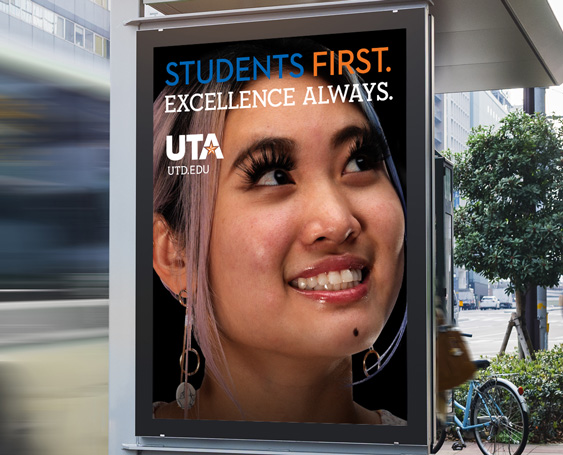 The University of Texas at Arlington
The University of Texas at Arlington is a public research university in Arlington, Texas. The Division I university was founded in 1895 and has been a part of the University of Texas System since 1965. UTA is the third-largest producer of college graduates in Texas and offers over 180 baccalaureate, masters, and doctoral degree programs.
We can help transform your business.
If you are looking for a digital transformation agency, get in touch today to see how our unique offering of integrated services and innovative platforms can make a difference for your business.