Consumers are getting accustomed to zero-click search results, where they get answers to their queries right on the search engine results pages (SERPs) without having to click through to a website.

64.8% of searches on Google ended without a click in 2020 due to this significant change. As a result, marketers are seeing a drop in site visits and conversion rates from organic traffic. Businesses must adjust their search engine marketing strategies to adapt to zero-click's impact on their visibility and web traffic.

The good news is that we can turn this challenge into an opportunity by adapting our approach to content creation, online marketing and keyword strategy. Let's look at how to use zero-click search to your advantage.


Why zero-click searches matter.
Getting featured in zero-click results may not earn you a click, but it offers other benefits. Snagging "Position Zero" at the very top of SERPs can get your brand seen by more people with high purchase intent. This top-of-page visibility can increase brand awareness and build your credibility as a subject matter expert.

An effective zero-click strategy also helps you get found in voice searches (e.g., Siri, Alexa, Google Home,) which only surface the top-ranking results. With 122.7 million Americans using voice search this year, brands can't afford to ignore this merging trend in their SEO strategies.
Which Google SERP features deliver zero-click results?
Google displays zero-click results in different formats based on the nature of a query: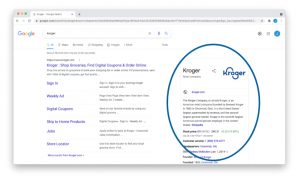 Knowledge panel: An infobox that provides detailed information on a search term. Brands can submit content for their knowledge panel and leverage it as their digital business card.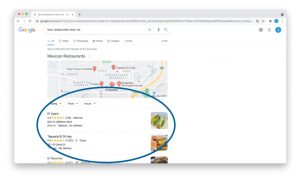 Local pack: A map of business locations and Google My Business (GMB) listings that appear on the first page of search results when the user shows local intent, eg., by including a phrases like "near me" in their query.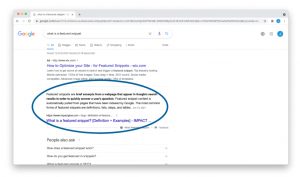 Featured snippet: Shown as text and displayed as lists, short "how-tos," explanations or descriptive definitions at the very top of SERPs (i.e., "Position Zero.")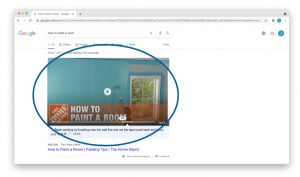 Video snippet: These rich snippets are small thumbnails placed close to the top of SERPs.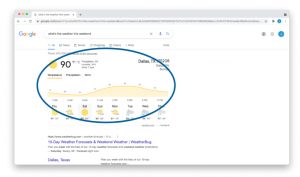 Instant answer: Facts about people, geography, history, weather, stock prices and more. They typically don't contain links to an external website.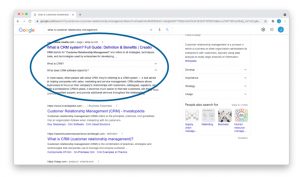 Frequently Asked Questions (FAQ) rich snippet: Enhanced search snippets that expand to show answers listed on the linked website when the user clicks on the question.
How to optimize for SERP features to improve your visibility
To get your content seen in zero-click search results, you need to adjust your SEO marketing strategy. The overarching concept is simple: provide rich information relevant to users' search intent. But what does it look like in execution?

Here's how to use zero-click search results to your advantage by optimizing your website:
​​​Update your Google My Business listing: An optimized GMB listing increases the chances that your information will appear in the Local Pack at the top of relevant SERPs and get shown in knowledge panels and video snippets- putting you in front of searches with high purchase intent.
Complete your profile and use relevant keywords in your GMB listing. Add photos and select the appropriate attributes. Check that the opening hours and the contact information are correct. Also, ask your customers top post ratings and reviews.
Optimize your website structure: A well-organized website makes it easy for Google to index the content. You can use a plug-in to generate a site map automatically and submit it to Google via the Google Search Console. Enable breadcrumbs to show visitors where they are on the site and implement canonical tags to indicate which specific URL represents the master copy of a page to avoid getting penalized for duplicate content.
Additionally, use schema markup to turn your website content into machine-readable data. It tells search engines what content on your site is most informative to specific queries, such as which sentence on a page is the best answer to a question.
Format content for zero-click features: High-quality content that's information-rich, accurate, and valuable should always be the foundation of your SEO marketing strategy. To make it easy for search engines to index your information, format content for optimal usability.
Check your content's readability and aim for a Flesch reading ease score of 60 or higher. Break up the content into bullets and numbered lists to make the information digestible. Include facts and numbers whenever appropriate to add credibility. You should also visualize statistics with charts and graphics and place them close to the top of the page.
Optimize FAQ content: FAQ results are valuable for SERPs-many featured snippets are answers to queries entered in the form of questions. To get your content featured on FAQ snippets and get in front of the right audience, you should have an FAQ page on your website or FAQ sections on various web pages.
Make sure the FAQ answers are concise and include question-based keywords. Format the content to state the question as a subhead, then provide an informative one-paragraph answer for the FAQ snippet. The answer should entice searchers to click to your website for more in-depth information.
Turn the zero-click challenges into opportunities
The rise of zero-click searches is a good indication of where SEO is heading-Google will try to keep more traffic within its properties, and searchers will want the convenience of getting the information they need with the fewest clicks possible.

We can't fight the trend, but we can take a creative, adaptive, and multi faceted approach to SEO. Brands need an evolved strategy to leverage zero-search results to build brand awareness, credibility and visibility.

Additionally, marketers must change how they evaluate the health of their organic traffic. Instead of traditional metrics such as sessions and users, you must broaden measurements to encompass the entire customer journey to gauge the success of your efforts and make better-informed decisions.

Learn more about our SEO services to see how we can put you in front of the right audience at the right time.