Charlie Calise, President of Dallas' Calise Partners, was recently honored with the Sheila Dolezal Humanitarian Award by AIDS Services of Dallas (ASD) for his volunteerism and support of the non-profit. The award was given at the 2018 No Tie Dinner & Dessert Party, presented by the Purple Foundation, which is the largest fundraiser for ASD.

Calise Partners donated creative services to rebrand and market the No Tie Dinner & Dessert Party for nearly a decade. The integrated marketing agency also created a new logo and "A Home for Life" campaign for ASD, while Charlie Calise also served as a member of ASD's Board of Trustees for several years. He was honored at the event alongside Don Neubauer, president and managing partner of Siter-Neubauer & Associates, who received a Lifetime Achievement Award for his support of ASD.

"No Tie and ASD wouldn't be where they are today without the help of these individuals, and we are happy to honor them through these prestigious awards," said Leslie Frye, No Tie Chair.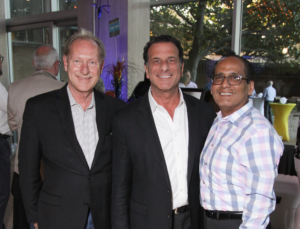 ASD works to create and strengthen healthy communities by delivering quality, affordable, service-enriched housing for individuals and families living with HIV/AIDS. Established in 2001, Purple Foundation is an all-volunteer non-profit that has raised more than $750,000 to support Dallas charities that improve the lives of people in the Dallas area who are living with or affected by HIV/AIDS.
About Calise Partners
Calise Partners is the integrated marketing agency that has Advertising Down to a Science™. The agency's powerful AdScience™ Data Management Platform maintains a single source of truth for clients' data, allowing for unparalleled optimization of the marketing programs that are most effective in generating new customers. Headquartered in Dallas, Calise Partners provides comprehensive marketing, creative, advertising, paid and social media, public relations and database marketing services. For more information visit www.imaginuity.com.