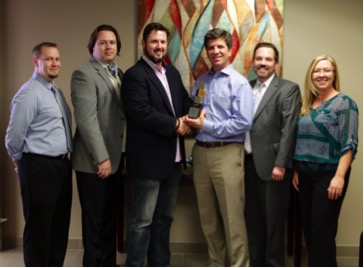 DALLAS – PRLog — The first-ever Genesis Accountable Physician Network (GAPN) website, launched in mid-2015, made its mark in the accountable care space. The collaboration between Imaginuity and GAPN resulted in an original branding experience that guided patients intuitively to locate a physician. By working closely together, Imaginuity and GAPN created a digital presence that articulated the compelling story of the physician's network, the experienced professionals working together, and achieved the best customer usability experience.
Imaginuity Technology Manager Kristan Boggs presented the awards to CEO and President of GAPN, Dr. Jim Walton with his team (pictured). Mr. Boggs described the teamwork between the Imaginuity and GAPN team that resulted in the three big wins for GAPN. "We achieved the ultimate vision for the site, and more. Both the Imaginuity team and the GAPN team are delighted with the result. We are so proud the collaboration was recognized by these outstanding awards."
Notably, the site also cross-connected with the Genesis Physicians Group website, also built by Imaginuity, to provide both independent practices and patients with the ability to take advantage of the site.
Honored for its creativity, functionality, design and usability, the responsive website was built in Kentico and is now recognized with three Academy of Interactive and Visual Arts (AIVA)-judged awards:
Davey Awards:
Genesis Accountable Physicians Network – Best Healthcare Website – Silver -2015
Genesis Accountable Physicians Network – Best Physicians Website – Silver-2015
W3 Award:
Genesis Accountable Physicians Network – Silver-2015
ABOUT GENESIS ACCOUNTABLE PHYSICIANS NETWORK
Doctor-owned and operated, GAPN served as a clinically integrated network based in Dallas. Through GAPN, physicians accessed value-based contracting, including the Medicare Shared Savings Program, which earned Genesis physicians $5 million in shared savings rewards in 2015. Due to the success of GAPN, Genesis is looking to expand its ACO opportunities in the North Texas marketplace.
ABOUT IMAGINUITY INTERACTIVE
Imaginuity is the full-service, digital marketing agency and consultancy that enables complex organizations to create and manage meaningful customer connections for the digital age. An independent agency based in the Southwest, Imaginuity has been nationally recognized for creative excellence. Services areas include Digital Strategy, Creative, Web Development, Social Media Marketing, Mobile Marketing, Search Engine Optimization & Marketing, and Analytics & Reporting.
To learn more about Imaginuity visit https://www.imaginuity.com/