Internal linking isn't just for Google – it helps users understand your site and how to navigate it. For example, linking directly from your homepage to your privacy policy page would confuse the user.
Instead, you should prioritize pages by content and relevance. The best way to prioritize your content is by giving your internal links a structure.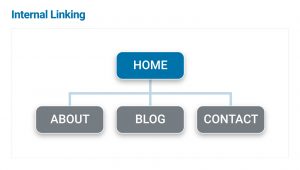 There are a variety of ways for internal links to be structured.
Contextual linking: Links within the context of your content that lead to related and interesting content on your site.
Link silo: A link silo structure categorizes your website's pages by content and then creates internal links to and from pages in each silo. Different topics will have their own silos, with links trickling down each page.
A link silo helps determine the structure and hierarchy of content on a website. Internal linking should be structured by content priority and content relevance. You want the pages that have similar content to be linked together.