Getting Sales and CRM Working Together
CRM systems are often a revolving door of increased sales expectations and disappointments. Getting your sales team on board with new processes, systems and reporting procedures can be a challenge. Sales people are naturally outgoing, face-to-face relationship builders and sometimes asking them to sit down and interact with data system goes against their very nature.
The Boston Consulting Group (BCG) recently wrote a great piece on the relationship between CRM and Sales. Imaginuity's Senior Director, Marketing Technology, Dax Davis, reviewed the article and provided his own thoughts on the article's points and the benefits of CRM for sales development.
Topic 1: "Many CRM systems devolve into unwieldy beasts"
One of the reasons many CRMs become "unwieldy beasts" is because users try to force their current processes into the CRM, rather than understand the functionality of the CRM and take advantage of the best practices the CRM already is designed to provide. This usually leads to heavy customizations and recategorization of stages, classifications, and other process elements to match an older "way we do it now" approach. It is much wiser for the customer to take a step back and identify what works best for them now, what needs improvement, and what HAS to happen to conduct their business. They then should take that information and figure out how to fit that into their current or new CRM. This tends to result in a maximization of the CRM they've selected with only the modifications to the CRM that are required to accomplish their business goals while taking advantage of better ways of managing their sales process that most CRMs will inherently support.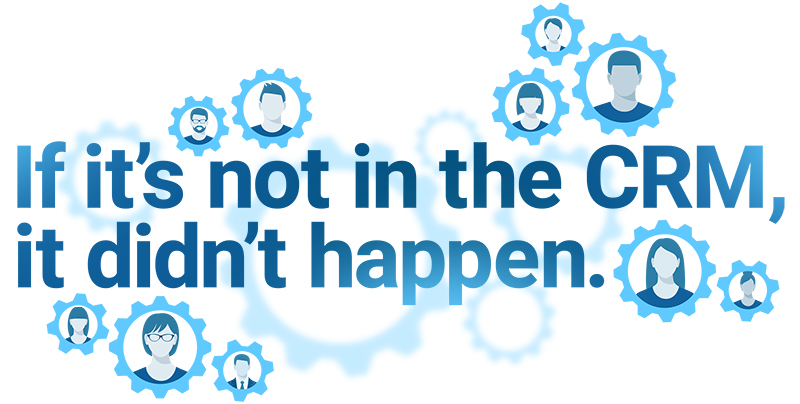 Topic 2: "If it's not in the CRM, it didn't happen"
This is a mantra that I've used in all of my CRM implementations. It also serves as a way to make sales people use the system and use it as intended. I've never seen a sales team just want to use a CRM. They are either protective of their contacts and sales leads, afraid of the transparency that a CRM enforces (both in results and activity tracking), or just lazy and don't want to learn a new way of doing things. If the sales leadership refuses to bend in its requirement of sales people to use the system and use it as prescribed, the team will get on board and the efficiencies will begin to show. This does not mean they don't learn from the implementation and make tweaks to improve and simplify things, but it does mean that the sales team understands that this is a mandate of their job. It also means the sales leadership is required to use the system appropriately as well. They must run reports and give analysis that helps the sales people be more successful, not just gather the information and do nothing with it.
Topic 3: "Smoothing behavioral changes at the front line"
This reinforces comments said above. In the BCG article, they pose the following question:
Would you like sales forecast meetings to take five minutes instead of an hour?
A five-minute sales forecast meeting is a situation that requires the managers to be using the CRM correctly, as well. Don't make the sales guy double his efforts by entering the information then giving you an ad-hoc status. That shows no value to the front line sales person. If the manager is asking for the ad-hoc report because the sales person has not entered their information appropriately or in a timely manner then it can be used as reinforcement as to why the sales person needs to adhere to the process, as it would save them the hassle of the ad-hoc meeting.
The article goes on to ask:
Would you like more time to focus on targeted skill development that will help advance your career?
Part of the answer in the article is "Once all salespeople are following the universal process and regularly inputting all their data into the CRM tool, managers can get all this information from a CRM report before their meetings with sales teams."
This is an example of one of the best benefits of a CRM for sales. Sales managers come into the sales meetings knowing the minutia of opportunities and don't need to cover that. Instead, they can focus on the tactical needs to close the account.
The BCG article also says "salespeople may initially chafe" – they will chafe, no doubt about it. They always find working with a CRM system to be "extra work" and don't feel it will help them increase productivity. In reality, using a CRM system always does result in increased productivity if used correctly.
Topic 4: "Using CRM systematically to unlock sales productivity"
In the article, the authors say,
Nail the sales process. Establish a clear sales process that works for the entire organization. Make sure this process specifies which metrics will be measured and what data will be captured.
This point is one of the biggest requirements of a successful CRM implementation. And, one area that most companies don't put enough time and effort into to get right. They also tend to focus only on what they are doing now and not on the additional things they need to be doing when defining their sales process.
Another point in the article says to "develop a plan to fix the CRM technology." This is also the time to identify the data sources and tools (add-ons) that will help users excel at Account Based Marketing (ABM) and/or data-driven sales processes that allow them to determine the next best action for a customer or lead.
One of the final paragraphs in the article is crucial, so I wanted to highlight it here:
Organizations should act now to prioritize the development of an organizational culture that embraces the ethos of "CRM first and always." Once they succeed in convincing salespeople to follow the universal sales process and track all their actions in the CRM tool, leaders must remain vigilant. They should continuously review adherence to the process and audit data quality to nip any problems in the bud and ensure that salespeople don't backslide into their old habits.
The constant review of data coming into and out of the CRM system and adherence to the process are crucial to the success of any CRM implementation.
Beyond the commentary above, the ability for the company to be able to make intelligent, proactive, business decisions is a major product of a well functioning CRM solution. The company can plan hiring, investments, and even improve value in a sale based on a sales pipeline that can be proven based on past performance. These are benefits beyond sales productivity.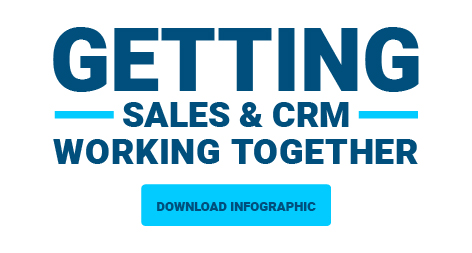 About the Author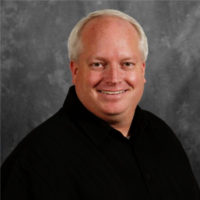 Dax Davis is the Senior Director, Marketing Technology at Imaginuity. Dax began his career in Sales at IBM and has worked both agency and client side throughout his career. He's been a principal partner @ NVision Design as well as Director of Digital Marketing & Technologies for Entrust Datacard. Throughout his career, Dax's area of expertise has always been the marriage of technology and marketing, and solving those "marriage problems" for companies across the world. When he's not creating solutions for Imaginuity's clients, you can find him zipping down the highway in his Corvette or cruising through the backroads on his Harley.
To discuss a marketing automation assessment for your business, please fill out the form below.