Click
Putting the Promise of Tomorrow into Action Today
Click is a leading provider of field service technician scheduling software. Their software is suitable for any company that rolls a truck to provide service at the home on, on-site or in the field. Up until recently, if for example AT&T sent out a truck to install Internet service at a consumer's home and that consumer was not there, the technician would wait in their truck, sometime for hours, until their next appointment. With Click's software, now when an appointment is not met, takes longer or shorter than expected, technician's schedules are optimized and updated in real time driving greatly improved operational efficiencies and customer satisfaction.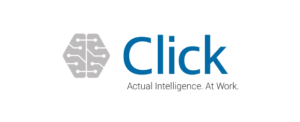 Problem
While Click is an established expert in the narrow niche they provide, their services are just one part of the broader category of field service management and asset management service provided by much larger global competitors such as GE Service Max, SAP and Oracle.
Imaginuity was hired to help clarify Click's brand position and to develop a new website in support.
---
Solution
The future of field service will be driven by artificial intelligence, machine learning and connected devices. Soon, many of the devices in our homes and at industrial sites around the world will be able to predict when they will break down and will automatically schedule service proactively. While this was understood by the users of Click software we talked to, they found those ideas too forward thinking and not directly applicable to how they ran their business today. These customers, many of whom used to be field service technicians themselves, were more interested in how using Click software could help them right away.
To support this idea, but not to walk away from the promise of AI, we developed the brand promise of Actual Intelligence. At Work. Supported by both the Sage (expert) and Hero (overcome daily challenges) archetypes. This brand promise supported the fact that Click was a technology leader but, technology provided was practical and could be put to work helping to improve technician scheduling, right away.
The website we developed clearly focused on both parts of the brand promise directly on the home page.
Results
Click was purchased by private equity firm Francisco Partners for $428 million in 2015 and sold last year to Salesforce for $1.35 billion a year and a half following our rebrand. We like to think our clarified brand position and go-to-market website had some affect on increased positive perception of Click in the marketplace.