BearCom
Keeping Old School Hip
BearCom had been in business for 35 years and is Motorola's largest channel partner selling two-way radios and wireless voice and data telecommunications systems. While historically successful, the company was facing a number of threats to its business both externally and internally.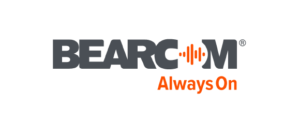 Problem
With the availability of push-to-talk technology now becoming available on many cellular devices, BearCom was concerned their business was becoming obsolete. In addition, BearCom's immediate competitive set is made up of other Motorola channels partners all selling similar products. With so many companies in similar, peripheral or more advanced technology fields, especially in BearCom's home market of Dallas, the company was also having a difficult time recruiting employees.
Imaginuity was hired to develop a refreshed brand positioning and bring the brand to life through engaging office graphics that would appeal to employees, Motorola and visiting clients.
---
Solution
Following over 20 hours of internal and external stakeholder interviews covering every aspect of BearCom's business, we developed the brand promise of Always On as the heart of our brand refresh. This is a powerful promise that supports BearCom's technology (two-way radio communication is more reliable than cellular networks) and the way that BearCom and its employees are Always On for each other, their teams, their customers and Motorola.
The brand promise of Always On was further defined through the brand Archetype (voice) of the Magician. Magician brands are focused on delivering the message that with them, anything is possible, even the seemingly impossible.
Both Always On and the Magician Archetype were brought to life in company offices.
Results
New positioning and workplace graphics were very well received across the organization and by Motorola. Employee satisfaction levels increased significantly across all departments and levels.
Several months after the roll-out of the AlwaysOn positioning, the company was sold to a larger private equity company.