Our Agency is focused on our promise to help Clients Reimagine Marketing for the Connected Age and we are driven by our company values of Trust, Craftmanship, Productivity, Innovation and Fulfillment.
What we have found working from home is just like helping our Clients reimagine marketing, we are also reimagining how we best work together, now virtually, to provide the same level of service, thinking and solutions our Clients have come to expect of us. And, the values that drove us in the office yesterday, still drive us in our new work environments today. Here is a peek into the values you can expect us to live every day, regardless of where we're working:
Trust: We do serious, mission-critical work for our Clients and we trust our team members to do whatever it takes to consistently deliver successful results. Delivering on trust requires a great deal of responsibility from each Imaginarian. This level of personal responsibility is significantly increased when everyone is working from home. However, even in this new environment, we still trust each other to do whatever it takes to deliver successful programs for our Clients every day—even if the work is done in pajamas.
Craftsmanship: We take great pride in the work we do and consider it an art as well as a science. Every detail and contribution are important and although we can't collaborate face to face, we are still able to regularly team-up online to provide input and suggestions to produce the high-quality work our Clients expect.
Productivity: No doubt, ours is a high-volume, deadline-driven business requiring a high level of productivity each day. And, in crisis-driven environments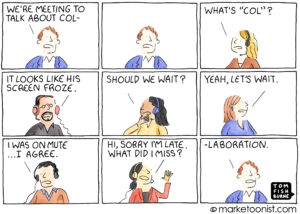 the demands on our teams increases as we react to new developments and anticipate future needs. Maintaining a high level of operational excellence in a virtual work environment certainly provides its own set of challenges, but our teams are up to the task. We have learned to utilize a range of online collaboration tools which enable us to effectively work from home and enhance efficiencies.
Innovation: As part of our culture, we anticipate change, identify opportunity and deliver forward-thinking solutions to our Clients before they even recognize the need. We think it is safe to say that everyone today recognizes marketing as we know it has changed forever. Brands that thrive in today's environment will be those that embrace change, learn from it and reassemble their offerings in more meaningful ways. To help, we have a weekly, online innovation team meeting where we discuss new operational frameworks, executional scenarios and "what if" ideas for our Clients.
Fulfillment: We love our work, our agency and the people we work with—both employees and Clients. Although we miss seeing each other every day, we are still a tight team. Whether it's through the use of video chat or daily, virtual stand-up meetings, we continue to support and recognize one another in our new normal to meet the high standards we have set for ourselves and our work.
While marketing and how we now work to deliver our services is changing before our eyes, our commitment to our Clients and employees has not changed. We are still focused every day on using imaginative thinking and innovative technology to reimagine marketing and careers to transform lives.