Almost two months into the COVID-19 crisis, what have we learned, and what do we do next?
As companies across the country enter their sixth week of doing business amidst the COVID-19 pandemic, many marketers have found themselves searching for actionable insights that may help drive (or save) their business during this exceptionally irregular time. While there is no shortage of speculative information today from which to pull inklings or hunches, marketers should be advised not to react emotionally, but rather to look to the truth that data-driven marketing can uncover as we navigate the coming weeks.
Imaginuity is fortunate to work with Clients who are still running complex marketing campaigns that generate a wealth of data-based insights shedding light on consumer response trends day by day. Here's what we've learned over the past few weeks, and what you can (and should) do about it:
INSIGHT 1: PAID SEARCH IS PROVING ITS VALUE IN THE MEDIA MIX.
Paid search plays a significant role in the media mix, typically helping to lower a campaign's overall cost per acquisition. If paid search is properly planned and optimized, it will work well in tandem with awareness-based channels like display to help convert a lead more efficiently.
IMPLICATION 1: WITHOUT PAID SEARCH, BRANDS ARE HAVING A DIFFICULT TIME ACHIEVING AN EFFICIENT COST PER ACQUISITION.
As advertisers re-allocate dollars away from intent-based channels to awareness-based channels, there are implications to their cost per acquisition. We've always known the benefit that paid search provides to the entire sales cycle—from research to closing a conversion. Recent AdScience® (Imaginuity's proprietary customer data platform) data from a retail-based automotive Client shows close to a 20% increase in programmatic display cost per lead when the paid search budget was reduced. This confirms what we have known all along—a balanced media mix is critical, and the role of paid search is valuable.
INSIGHT 2: BROADCAST VIEWERSHIP IS SOARING.
Nielsen data is telling us that household ratings are up year over year between 20% to 50%, depending on the daypart. Viewers consumed with news are driving a more than 50% increase in ratings across the news dayparts—early morning, early news, and even late news. The largest spike in ratings is at the local level which is up more than 150% across all demos in the top 25 Nielsen markets. This suggests that viewers are staying loyal to their local network—we aren't seeing big shifts in overall share from one local network to another and cable ratings are staying consistent, suggesting viewers are not jumping from local to cable news. Outside of news, entertainment programming like comedies are seeing monumental ratings increases as viewers are looking for an avenue to balance the heavy news content with "feel good" programming, taking their mind off of their everyday reality.
IMPLICATION 2:  WITH UNPRECEDENTED RATINGS AND UNEXPECTED INVENTORY EXCESS, BROADCAST IS A MORE EFFICIENT CHANNEL THAN EVER BEFORE.
Advertisers that have the flexibility to support an incremental broadcast budget during this crisis will be able to take advantage of cost per points that haven't existed in years.  Broadcast viewership is up across all dayparts, driving higher ratings than we've seen in a long time. And, without political or Olympic spending, stations have unexpected inventory to sell—at unprecedented rates. These networks are anxious to book their inventory and are ready to negotiate with Agencies deeper than they have considered going in quite some time. This is a buyers' market and brands should move quickly and take action.
INSIGHT 3: BRANDS THAT ARE HOLDING BACK THEIR MARKETING SPEND ARE FUELING A SELF FULFILLING PROPHECY.
Every brand is reacting differently to this crisis—some are moving forward with their budgets as planned, others are cautiously holding their budget to spend in the back half of the year. Many have decided to take full advantage of a captive audience and are adding incremental budget in Q2, capitalizing on consumers that are watching and interacting with media at unprecedented levels.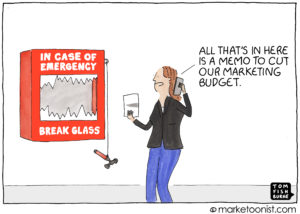 We have collected data across all of our Clients, regardless of their approach to COVID-19, and AdScience has given us a data-driven answer to whether marketers should be advertising as planned in Q2; the answer is yes! Client lead data tells us that consumers are still reacting to intent-based marketing and leads have not slowed down significantly for those who continue to advertise.
IMPLICATION 3: BRANDS STAYING THE COURSE HAVE SHOWN THEY CAN WEATHER THE COVID STORM.
Data from AdScience, which aggregates and activates more than 750 datapoints on every household in the US, indicates that advertisers not pulling back spending due to COVID-19 are able to maintain their status quo with relatively stable year-over-year performance. Looking at 140 local markets, the advertisers that delayed or cancelled their April media are on average down 50% in lead volume year-over-year. Comparatively speaking, some advertisers that continued as planned in April are seeing an average decline of only 10% in lead volume year-over-year. However, a third of that group actually saw a 20%+ increase in leads year-over-year.
Now is the time to look beyond thoughts, feelings and gut reactions. In trying times, smart marketers will choose to rely on key data points that demonstrate the reality of the media world in front of them. Perhaps more importantly, they'll put themselves in a position to act and pivot based on data's voice of truth to not only sustain but improve performance.