Calise Partners won in the Cross Platform Advertising Industry Self-Promotion Integration Campaign (a mouthful, but bear with us) category last night at the 2016 Addy Awards. 
Our "Work Like It's 1985 Campaign," the brainchild of Mike Heronime, Joan Buccola, Jill Juncker and Blake White, won a bronze award – and we couldn't be prouder of them. Inspired by Back To The Future Day (October 21, 2015), Calise Partners reached back in the past to remind our clients and colleagues what it was like to be in advertising 30 years ago.
For starters, we created an old-school mechanical on art board with cut and paste typesetting, blue line guides and crop marks. The mechanical (pictured above) included the headline, "Work Like It's 1985" and copy that reminded everyone that the best development in advertising in the last 30 years has been our very own AdScience® approach to data marketing. Each handmade mechanical was then FedExed to our clients to arrive early on October 21. We also posted a blog article on our website and then shared a series of throwback posts on Facebook, Twitter and LinkedIn throughout the day.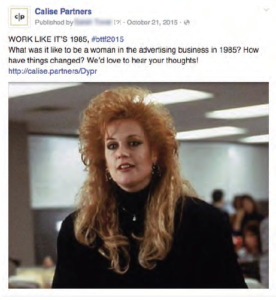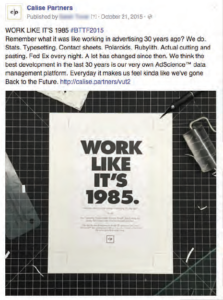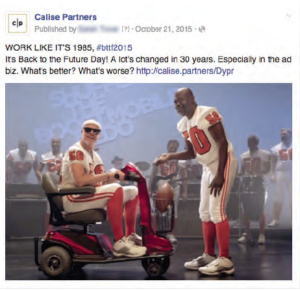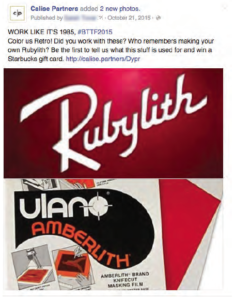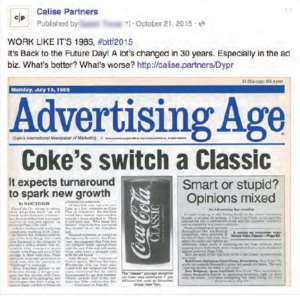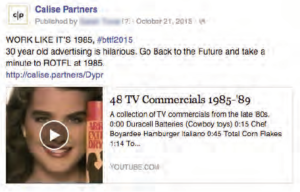 We are particularly pleased with winning in the Addy Awards' Cross Platform category (aka. Integrated Marketing category) because we work hard to develop idea-driven campaigns that are effective across all media. And as a company that loves science (especially Advertising Science® we are doubly pleased that our homage to Back to the Future helped us earn this award.
The theme of the night was The FantasyADDY's of the 2016 Addy Awards. The premise was that each company had a pre-drafted "team" comprised of a Creative Director, an Art Director, a Copywriter and three "flex" players, who could be from any agency. Each company got a point every time their "drafted" team members won an award.
Our team was comprised of some of Dallas' finest: Chad Smith of TraceyLocke, Lauren Coleman of Launch Agency, Ignacio Romero of Richards/Lerma, Steve Gaconnier of Janimation, Susan McCarthy of Shoptology, and Kim Alexander of The Richards Group.
Despite a lack of vegetarian options on the menu (come on people!), some typos in the presentation and a few sexist jokes from the host, we were honored to be surrounded by such great creative talent in the industry. Special shout-out to the Addy Awards and the American Advertising Federation of Dallas – our favorite part of the night was when they featured top executives in spoof video spots about themselves.
Unfortunately we didn't take home the Fantasy Draft award, but we did take home an actual award – and we promptly celebrated with pizza (vegetarian options and all) this afternoon.
In keeping with our vintage 1985 theme, check out some Polaroids from the night: