Janimation, an industry leading animation studio and production company, is the host of Dallas' annual chili cook off and fundraising event known as Chilanthropy. Ad agencies and production companies are invited to bring their best chili to this tournament of taste. This year, Calise Partners has agreed to enter the fray. Naturally, we take a scientific approach to everything we do and entering a chili cook off is no different. That means starting with multiple concepts and then doing some A/B testing to determine what will make the most effective solution. In this case, the initial concepts included: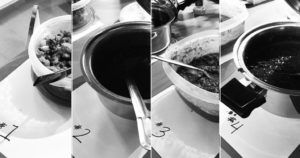 #1 Break the Rules Chili. Chilanthropy has a strict "no beans" policy for their chili contest. But we say if our best chili has beans in it, then we stand behind it. The Break the Rules chili not only had beans it, it was an all-vegetable, completely vegan chili. And it was delicious.
#2 Unconventional Chili. This concept was the out-of-the-box option because it was actually pozole. But the main ingredients are ancho chiles, chipotle peppers, onions, cumin, and pork. Which sounds like chili to us. It was as delicious as it was innovative.
#3 Sportsman Chili. This concept was designed to appeal to the rugged individualist in everyone. This robust, traditional chili recipe is complemented with the exceptional flavor of venison. Sorry Bambi, but you guys taste great.
#4 The Velvet Hammer. Concept number 4 is a hearty chili with a secret ingredient. We can't tell you what it is, but we can tell you it's not that delicious stout with the same name. This chili gets its name for being so smooth while still packing a punch.
Each concept was presented to the test group, which was made up of hungry agency staffers willing to trade their lunch hour for free chili. Each taster was surveyed and the survey data was quickly analyzed. Like a lot of the campaigns we manage for our clients, we were able to get quick results.
Find out which concept won and cheer us on to victory by joining us at Chilanthropy on Saturday, November 21. Here is more information on the event.