It's not magic. It's science
Imaginuity runs on AdScience®—the first platform of its kind, and the only tool that turns customer data into measurable, actionable results. It's not magic. It's AdScience.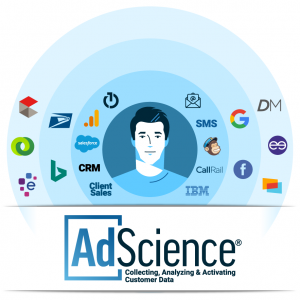 Gather Intelligence
AdScience collects an abundance of data, including offline and online media performance, demographic, customer journey and transactional data, to provide timely, intelligent visualizations and actionable reporting of every campaign. AdScience makes it easy to measure what's important to converting more customers.
See What's Working
AdScience allows clients to extract the highest value out of every advertising dollar spent. This proprietary customer data platform was developed with one goal in mind: to measurably improve customer growth, providing you with the highest level of transparency into all of your traditional and digital media spending. Click here to see AdScience in action.
Conversion Optimization
Navigating the definition of a "conversion" can be a daunting task, with the likes of Facebook, Google Ads, Bing, and others all trying to take credit for the same conversion, you could have an incomplete view of the cost to acquire a customer. AdScience visualizes multi-touch conversions to provide a comprehensive view of your acquisition costs.
Visibly Better
AdScience enables our in-house data team to create complex data visualizations that extract the most value out of your managed media campaigns and customer databases – bringing advertising performance into clear view.
Clearly Unbiased
AdScience connects marketing data with customer data to effectively activate custom audiences across multiple media channels. This approach allows us to optimize marketing campaigns toward audiences that are most likely to drive revenue.